Quantity available – 3.  
with new Trojan Batteries installed – $5835
with LED lights and a rear seat – $6610
**Note – due to Covid – there is a nationwide shortage on used golf carts.  We are down 75% on our inventory due to this unavailability, so buy early as we will be out of stock early in the season**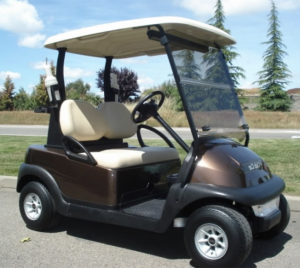 Great condition – beautiful carts – come with tops and chargers and windshields.  Also have automatic battery watering system and a new handheld pump is furnished free (not all dealers furnish a pump which renders the system useless without it).
Rear Flip seats, light kits, lifts all in stock and can be installed within a day.
add a flip rear seat  starting at $375
add LED light kit starting at $240
Rear seats, light kits, lift kits, etc. all in stock.