Quantity 2 – Call for availability as this is not updated daily.                     Only 2  left!!
 Great condition  gray and black carts with matching rear seat– come with tops and chargers and windshields.  Also have automatic battery watering system and a new handheld pump is furnished free (not all dealers furnish a pump which renders the system useless without it). One cart has new Crown batteries  – $7350.00 and one has 1 year old Trojan batteries in it – $7150.00.
Prices are cash or check, credit cards are 2% additional.  
$7150 & $7350 with LED lights and rear fold down seat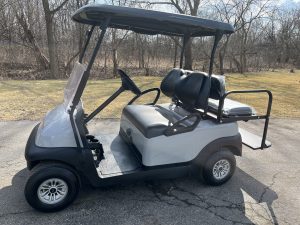 **Note – due to Covid – there is a nationwide shortage on used golf carts.  We are down 75% on our inventory due to this unavailability, so buy early as we will be out of stock early in the spring**