Golf Carts Plus, Inc.
YOUR ONE STOP, CLUB CAR, GOLF CART SUPERSTORE!!
Store Hours
Monday – Friday 9am-5pm  ( Later by appointment only)
Saturday       (CLOSED)    
Sunday CLOSED
Closed weekends for Memorial Day, 4th of July, Labor Day.
Closed Easter,  Thanksgiving, Christmas Eve and Christmas Day.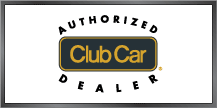 Being in the golf cart business 25 years, since 1998, we have tremendous buying power to give you the best quality, prices and selection on golf carts, parts and accessories. We are one of S.E. Michigan's largest  and oldest FULL SERVICE golf cart dealers and an authorized Club Car dealer stocking EXCLUSIVELY for the Club Car line only.
Let us help you turn your golf cart into a one-of-a-kind, head turning reality. We believe in giving you the best deal for your money right from the start and keeping you as a loyal customer from here on in whether it is a used golf cart you are looking for, parts or accessories. Let's face it – anyone can buy golf carts and call themselves a golf cart dealer, but a true dealer specializes only in golf carts, offers full service – parts, accessories and service and has the proven track record and experience to back them up.
MADE IN THE USA
Golf Carts Plus believes in supporting American Business and Manufacturers. We believe the products are better made, safer and last longer, and help keep our great country strong. 98% of what we buy and sell are "Made in the USA" parts and accessories.  Look for the made in the USA logo in our catalog.
When shopping for your parts and accessories, be sure to ask where the product is made. Beware when you see the word "Economy". The truth is most of these parts are cheap "knock offs" of the top quality products that were designed here in the USA, shipped to China for reproduction and imported back here for sale.
We have seen and tested almost all of these "economy" parts and accessories and believe in selling a good quality product for the money, something that will last and is "Made in the USA". We refuse to sell these inferior quality products to our customers. You know you are getting a top quality part or accessory made here with quality materials by U.S. workers that puts money back into our "Economy" and not overseas.
Golf Carts Plus takes pride in saying that, 75% of our accessories – our rear seats, lift kits, diamond plate and stainless trim, body kits, enclosures, covers and more are made in the USA. Our parts are almost 98% OEM.